In this week's Meet the Maker we meet Shirley from Hello Shan Studio
Hi Shirley! What did you do before starting your business?
I worked in Retail for many years in various roles including Visual Merchandising and people management.

What made you decide to create your business, and what's the inspiration behind your brand?
Hello Shan Studio was started in 2016 when the company I worked for went through another round of restructuring which potentially meant longer hours and more travel. That's when I decided to move my retail career in a creative direction by starting Hello Shan.
I'm inspired by the natural world. My childhood holidays were spent outdoors, exploring and travelling through Southern Africa with my family. Spotting various wild animals during the day and sleeping under the stars at night. So naturally my happy place is outdoors, and this has a big influence on the work I create. 
What is your Design process and what are your essential tools?
All my illustrations start off on paper – I use fineliners, ink and watercolours. I then scan in all my designs and digitally add in colour and elements. I love patterns and colour which is also very prominent in my work.
Recently I have tried working in procreate on the iPad, which has been fun and I'm always up for learning something new.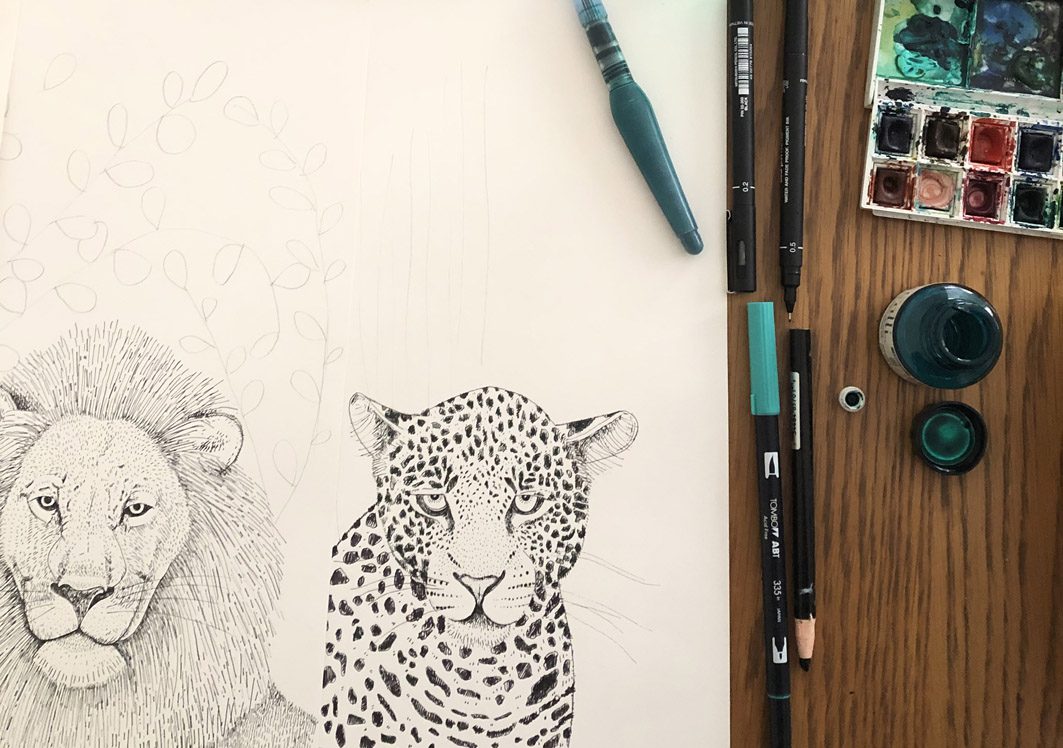 What have been the biggest challenges/achievements, or your favourite story so far?
The biggest challenge has been accepting that sometimes there are setbacks – slow progress. With the pandemic everything has taken longer – which has actually taught me to be a lot more patient.  
I would say the small business journey is amazing, I've learnt to appreciate little achievements instead of focussing on what I haven't achieved. Which becomes so easy when running a small business. I look at how far I've come and that's always enough. 
How would you describe your business in 3 words?
Bold, Fun and Colourful 
Favourite music / podcasts to listen to while working?
I love 80's and 90's music
Do you have any advice for someone just starting out in their small business journey? 
I would definitely recommend starting out with a very concrete plan, but being flexible enough to pivot in case plans change. I think the expectation when starting a new business is that it will be an instant success, this is not always the case. Sometimes you need to try out a few things and take a few leaps of faith, mix that in with lots of hard work to make your business work. 
Also I would suggest having a part time job alongside your business until it takes off, if possible. This takes the stress away from the money side of things, which when you're first starting out can make things a little easier. 
And lastly find a community of fellow makers and creators who can provide so much support and can be a wealth of information to help you along your journey as a small business.
What do you do to relax? 
Read, listen to music and yoga. I also love long walks in nature with my little dog Erik. 
What's next? Any exciting plans?
I am hoping to release a limited edition of ceramic pieces in summer – all nature inspired of course! This idea has been in the pipeline after completing a few courses in ceramics at Hills Road in Cambridge over the past couple of years. 
I studied Art at Uni and one of my 1st year subjects was pottery, so naturally years on I was keen to try clay again and I have completely fallen in love and can't wait to be able to make some beautiful pieces!
Shop Hello Shan's designs on Urban Makers